FYI this is not an amazing post, so don't get too excited! Rather, it's the first of many posts of the "ideas" category – meaning they are just costumes / props I want to build in the future.
---
So … I've been trying to figure out just how I'd put GL together, and wanted to actually write down a Green Lantern costume idea or two (because I'll forget). I'm sure that if I did finally put together a Green Lantern costume, my must-have list would include:
armor
light-up
not too silly or fancy either
realistic (if there were a light-powered superhero)
I've already made an emblem that I mostly like and have a light-up ring. Just need the rest!
So with that in mind … and as with any idea, let me know what you think in the comments!
Green Lantern costume idea #1
A black undersuit with clear armor that's either painted green or includes green lights, or both. I'd add a custom, lit Green Lantern emblem in the chest, of course as well as a light-up ring. The boots would have to go under the knee/shin guards but be black or green. Mask is optional!
I could do this using some clear motocross armor, like the stuff below:
Alternatively, I could design the armor myself in 3D and have it printed. Although it'd be WAY more expensive, it would more relevant to the character (rather than motocross, for instance) and would look pretty awesome.
Either way, I'm thinking it should end up looking something like this:
Green Lantern costume idea #2
What about just a John Stewart-style bodysuit with light-up ring and perhaps green contacts? Simple, yet effective?
I researched a bit online and found nothing that would actually look any good on eBay, but did find something that might work on Ricky's Custom Costumes. The Green Lantern costume, shown below, actually looks pretty good!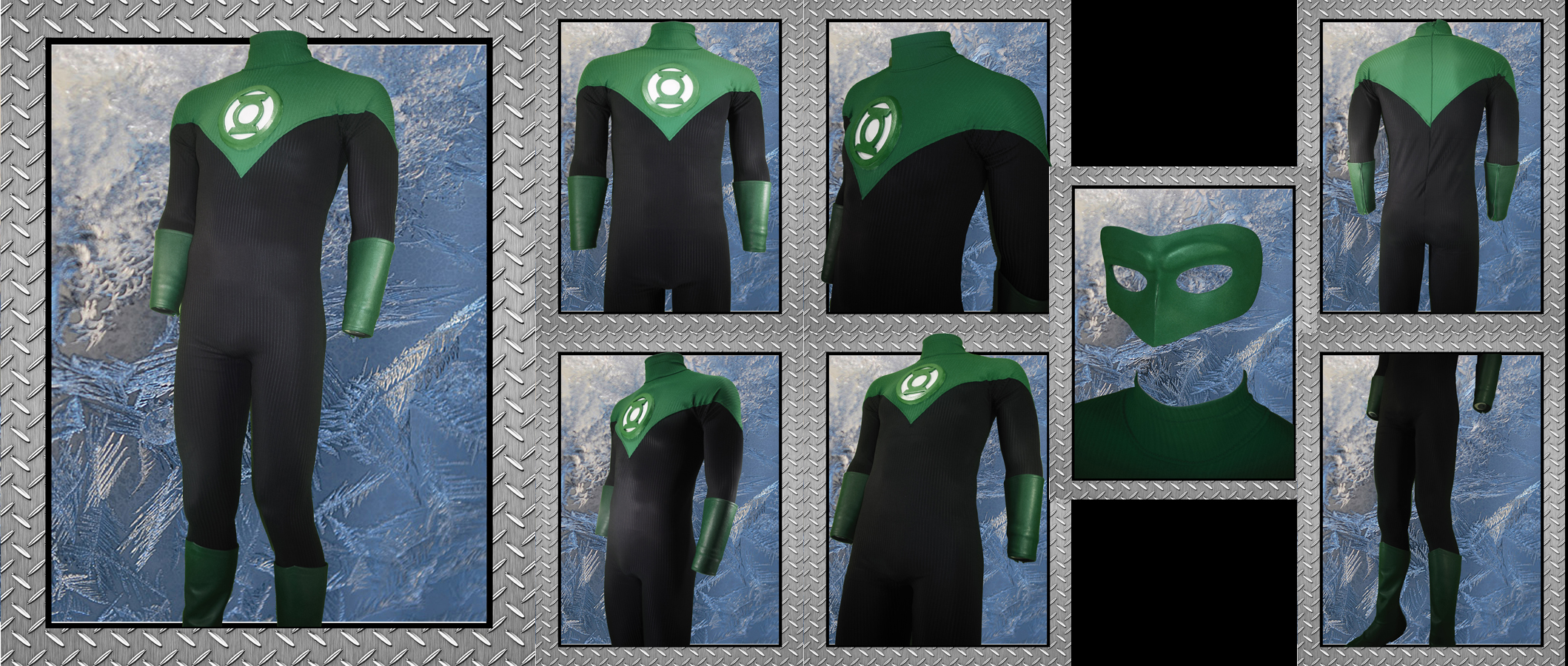 The fabric here really looks great, right? It does look like it might need some help on the emblem (if I want it to be light-up) and the boots would need to be replaced with actual boots (not just wraps).
I have experience with Ricky, as he provided my first (real) costume – the Superman Returns costume – back in 2006. He did a really great job with the main bodysuit and it looks like he's come quite a way in the 10 years since. This might be a viable option …
I also found some green contact lenses that would probably look cool: https://www.crazylenses.com/all-in-one/green-uv-contact-lenses-complete-set.html
So what do you think? Which way should I go? Or do you have another idea? Post in the comments!